August – September 2020. |Projects
Upcycle together – "from Jordan to Jordan".
Under the framework of "From Jordan to Jordan," MEHNA implemented the works of a reuse workshop for educational and vocational activities at Zain Park, Jerash, which was part of a collaboration contract between ICU and the Greater Jerash Municipality.
The workshop's objective was creating a sustainable and effective waste management system that protects the environment, promotes public health, and supports the social and economic development of Jerash. MEHNA successfully delivered technical and skills-related trainings and mentorship to 16 volunteers, towards achieving the #12 goal of the SDGs (Responsible Consumption and Production). The trainings were delivered to ensure volunteers were equipped with necessary skills and knowledge to effectively implement educational and vocational courses for children and youth. Volunteers received training in financial, organizational, marketing, and management, as well as training on the technical use of the workshops' tools and machinery including maintenance and safety standards and procedures. The training prepared them to design and manage recycling and upcycling workshops, including a laser workshop, a carpentry workshop, a paper recycling workshop, and a toy recycling workshop. Volunteers successfully conducted an accumulated 576 training hours and the programmed catered to 236 beneficiaries.
MEHNA ensured the program's success by highlighting the value of attention to detail in creating marketable, high-quality products. Beneficiaries produced furniture and other high-quality products from various recycled materials that are sellable in the market, increasing their income, improving their community standing, and providing long-term benefits to themselves and their families.
Pictures from the project show some of what has been done during the six-month period and represent the volunteers' respective work and hard efforts in relation to much-needed environmental awareness and creating beautiful up-cycled products.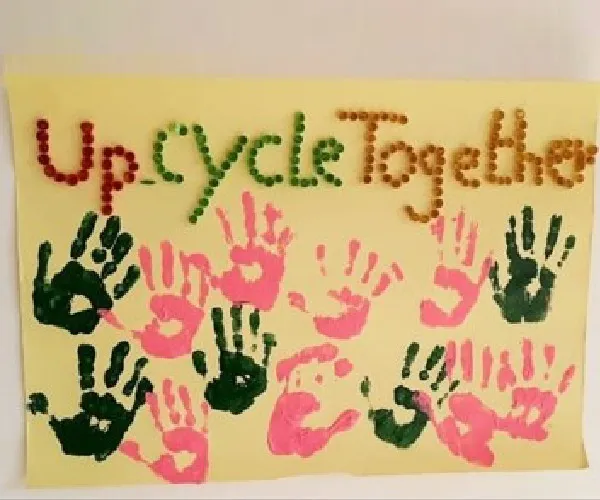 Upcycling – Recycling workshop
Children age 8-11 years
News – 1 November  2021. 
The workshop was designed to raise children's awareness of recycling and environmental issues. Children were introduced to the practices of reusing and recycling through fun and educational indoor and outdoor activities. They had a great time and were enthusiastic about the activities in the workshop, and they were able to express their creativity while learning about the importance of sustainability.
Participants learned the impact of water conservation on the environment and how they could contribute to it, illustrating what they had learned with beautiful drawings, which was a great way for them to remember and to share with others. They also learned about the importance of preserving the environment by practicing some of the basic methods of planting seedlings and trees, a hands-on activity that helped them appreciate the effort that goes into growing and maintaining plants. Children were also given the opportunity to make recycled toys, which was an excellent way to learn the concept of upcycling and the value of reusing materials instead of throwing them away. They demonstrated their limitless creative potential by building robots, trucks, and trains using different recycled materials.
MEHNA would like to thank Alaa for her efforts and for the memorable and valuable experience that children will carry with them as they grow and learn more about sustainability.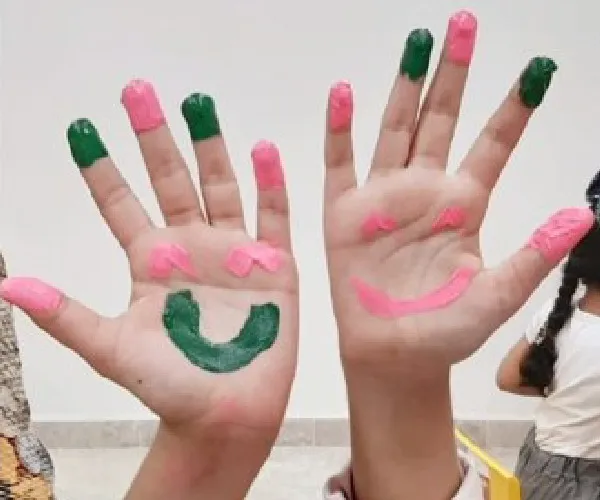 Upcycling – Tire workshop
Youth age 16-19 years
News – 1 November  2021.
The workshop was designed to promote youths' environmental awareness and educate them about sustainability and how to turn waste into something useful, focusing on turning old and used tires into new and unique items, such as tire furniture, tire planters, and so on.
Trainees learned the basic techniques for transforming old tires; they learned how to upholster a tire with padding, fabric, and leather, and they also learned how to paint and assemble tires. They have created one-of-a-kind recycled tire furniture that is now used as indoor and outdoor seating at the Zain Workshop in Jerash.
 MEHNA wants to express its gratitude for having Saleh and Ahmad as such great positive role models for the young participants.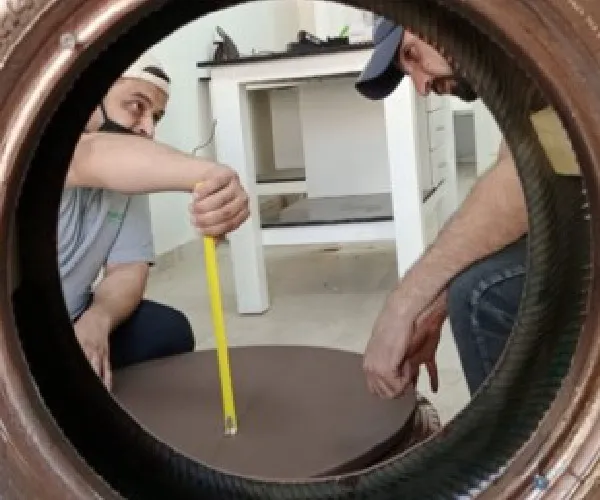 Upcycling workshop
News – 1 November  2021. 
The workshop was designed to promote sustainability awareness and educate participants on how to turn everyday items into something new and useful. Ghassan, who believes in the ideology that "almost all waste items can be transformed into amazing art pieces," delivered an incredible workshop training, highlighting the benefits of upcycling and how it can contribute to a more sustainable future through a hands-on experience.
Participants learned the necessary tools and techniques to create their own upcycling projects using recycled materials. They created extraordinary art pieces that they can either take home, display, or use as decorative items. They spent hours designing, gluing, and decorating several recycled items, such as mirror frames, artificial trees, and penholders, using curled old paper and chip bags turned into long straws. Trainees showed a high level of creativity while designing unique, stunning, and detailed items.
MEHNA would like to thank Ghassan for his great efforts in inspiring trainees to design such exquisite recycled items.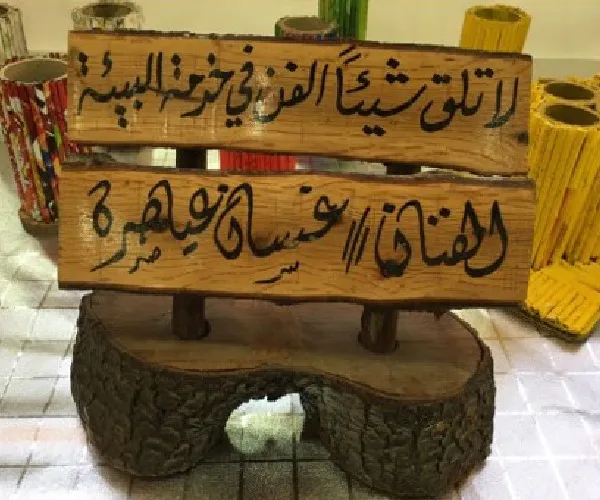 Upcycling – Paper workshop
Youth age 16-19 Years
News – 1 November  2021.
The workshop was designed to educate the young participants about the importance of upcycling and sustainability and give them the opportunity to use their artistic and creative talents to create new, one-of-a-kind products from used and recycled paper.
Participants learned the basic techniques of creating their own paper and how to use it for a variety of purposes, starting with ripping the used paper into tiny pieces, blending the ripped paper with water to create a smooth pulp mixture, forming the mixture by pouring it into a mesh screen, removing excess water using sponges to press the screen with, letting them dry, and then cutting it into any shape or size and using the paper.
Trainees used recycled paper to make beautiful and creative products such as paper mâché bowls, magazine collages, DIY notepads, small alphabet books, and gift boxes.
MEHNA would like to thank Sawsan for inspiring trainees to commit more to recycling and strive to contribute toward a more sustainable future.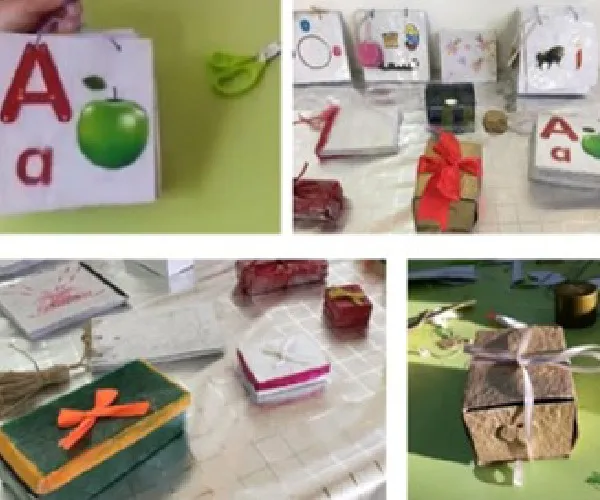 Upcycling – Carpentry Workshop
Youth age 16-19 Years
News – 1 November  2021. 
The workshop was designed to teach young participants valuable carpentry skills while promoting sustainability awareness and creativity. After introducing participants to a brief overview of the concept of upcycling and its benefits and showing some examples of upcycled projects, trainees received safety and tool training before heading to projects. They also learned about project selection, material selection, design and finishing, decoration, and then displaying the finished projects.
Participants produced a variety of products from reclaimed and repurposed materials; they created furniture, home decorative items, storage solutions, toys, and accessory boxes. The possibilities were endless, and among all the unique and innovatively designed items, they worked to create a one-of-a-kind, colorful bookcase cabinet for the workshop area, learning how to laminate each shelf and how to assemble them with a teamwork spirit.
MEHNA would like to thank Zaid and Hasan for their efforts in inspiring and motivating participants, as they proudly handed over the designated bookcase to the kids' area at the training center in Zain, Jerash, and they are now more skilled.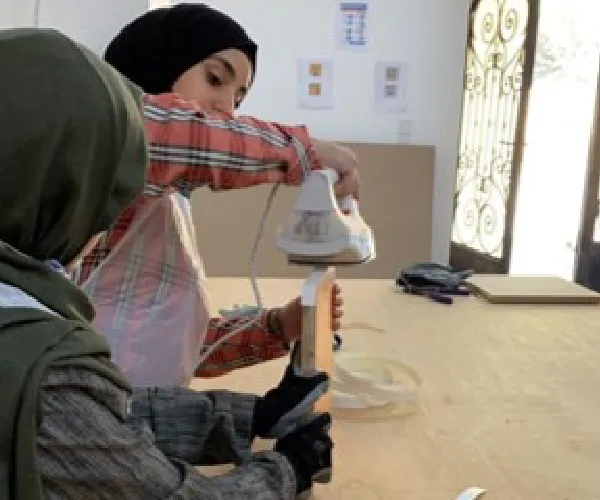 Upcycling – Recycling workshop
Children age 5-7
News – 1 November  2021. 
The workshop was designed to educate children about the importance of reducing waste, preserving our natural resources, and protecting the environment by learning about the 3 Rs: Reduce, Reuse, and Recycle.
Children were introduced to recycling, by explaining what recycling is and why it is important, as well as displaying examples of recyclable items. The workshop was fun and engaging; children tried out some recycling games, DIY recycling projects, and upcycling projects, and they also learned how to turn old or unused items into something new, useful, and decorative using recyclable materials such as plastic bottles and old magazines.
MEHNA was inspired to see the children having so much fun, with big smiles and amazing crafts, and wants to thank Nour and Rawan for their efforts in teaching children the importance of sustainability and encouraging them to be environmentally conscious.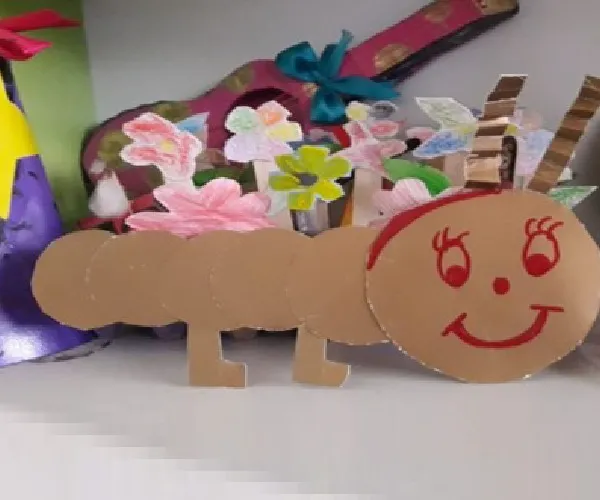 Upcycling – Puppet show Workshop
Children age 9-14 years
News – 1 November  2021. 
The workshop was designed to teach children about the benefits of upcycling while also fostering their creativity and imagination using storytelling and puppet characters to illustrate different aspects of recycling, such as sorting, composting, and reusing. Children were introduced to the concept of recycling using visual and interactive games and shows, which made it easy to understand the impact of waste on the environment.
Participants learned basic puppetry techniques such as lip sync, body movement, and voice projection that allowed them to effectively animate their puppets and convey their message. They were guided to design and make their puppets out of recycled materials and to come up with their own recycling story. Once the puppets and script were completed, it was time to host a performance. Children were encouraged to showcase their puppet shows to an audience of friends and family. And finally, they discussed the show and how they can incorporate recycling into their daily lives, as well as what they plan to do differently in the future to reduce waste and recycle more.
MEHNA would like to thank Rana, Faisal, and Ali for sparking children's curiosity, improving their knowledge about the environment, and encouraging their creativity and teamwork.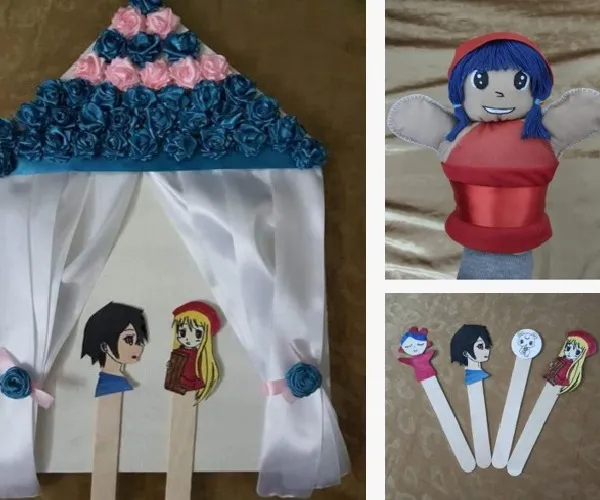 Upcycling – Laser Workshop
Youth age 16-19 years
News – 1 November  2021. 
The workshop was designed to teach young trainees the basic techniques of using a laser cutting machine, introduce the concept of upcycling and its significant role in reducing waste, and demonstrate how laser technology can be used for upcycling. Trainees were provided with an overview of laser safety when using a laser cutter machine as well as selecting upcycling materials such as wood, plastic, and textiles.
Young participants were also guided to design laser cutting projects using 2D software and to translate those designs onto the machine in order to create beautiful, detailed, and creative items. Engaging in a hands-on experience allowed participants to experiment with different materials, designs, and techniques.
MEHNA would like to thank Eng. Mohammed for his efforts and for being part of the participants' inspiration and newly acquired skills.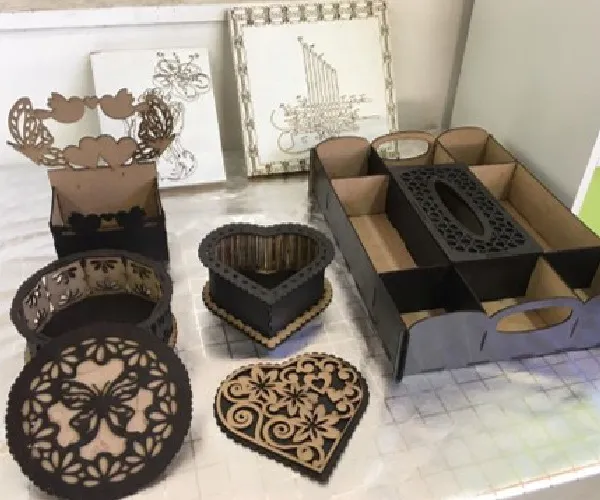 Upcycling – Decoupage  Workshop
Youth age 16-19 years
News – 1 November  2021. 
The workshop was designed to teach participants how to transform ordinary objects into unique and decorative pieces using the art of decoupage. Participants learned the basic techniques of decoupage, which involve cutting out and gluing paper or fabric onto a variety of surfaces such as wood, glass, ceramics, or metal, and then sealing the object with layers of varnish or glue.
Trainees learned how to make the appropriate material selection, prepare the surfaces, cut and arrange the chosen designs, and apply the adhesive and protective layers. They also learned different types of paper and fabric designs, such as vintage images, floral patterns, or abstract shapes, and how to combine them for a harmonious and visually appealing look. Participants created beautiful, unique coasters, mirrors, picture frames, boxes, and much more. They were also given the opportunity to create a stunning decoupage collage to make a memorable piece of art in honor of the city of Jerash, as demonstrated in the pictures.
MEHNA would like to thank Mrs. Laila for her amazing efforts and for indeed being the best decoupage instructor out there.